Why Choose Teen Ranch?
Ten Great Reasons to choose Teen Ranch Australia
1. Teen Ranch has great activities that are safe and loads of fun.

2. Unique outdoor learning environment, where young people can challenge themselves and support each other.

3. Run by a dedicated community of Christians, with specialised experience across all camping activities.

4. Great facilities, all campers need their sleep, including Group Leaders!

5. Fully catered for all camps by our friendly kitchen crew, no request is too difficult!

6. Located only an hour from Sydney central.

7. Affordable rates for all campers with no hidden extras.

8. Total capacity of over 200 campers and leaders.

9. Streamlined risk assessment process.

10. Over 60 years industry experience.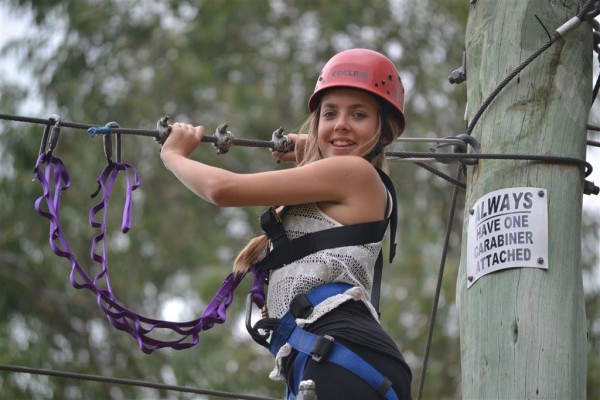 Safe and Affordable
Teen Ranch is a highly affordable, safe and exciting outdoor recreational experience for primary and high school aged students.
At Teen Ranch we recognise that your group has unique needs - our programme coordinator will work closely with you to tailor a camping programme to meet your school's objectives.
Range of Programmes
At Teen Ranch, young people are able to participate in a diverse range of fun and adventurous specialised activities, whilst enhancing their physical and interpersonal skills.
Our enthusiastic and experienced team are able to facilitate all aspects of the programme, allowing group leaders to observe or actively participate with the campers. We have 2 day and 3 day residential, as well as single day excursion programmes to suit all your needs.
Mind, Body and Spirit
As a non-denominational Christian organisation, all Teen Ranch programmes are designed to develop campers in body, mind and spirit. Many in our society are recognising a lack of consistent social and moral values amongst Australian young people. At Teen Ranch, we are passionate about sharing the good news of Jesus to everyone who attends and helping them explore the implications of this good news for individuals and society as a whole. We integrate these Connect times into each of these programmes if you choose them. We seek to do this in a meaningful and relevant way that is sensitive to the background of guests, with the hope that they will be able to explore the claims of Jesus for themselves. Please note that these Connect sessions are not compulsory for each programme.