What Are Adventure Programs?
What Is it?
This holidays, Teen Ranch is providing day programs for young people 10 - 17 years old. Each day will be separate from each other, campers will arrive from 8am and be picked up by 4.30pm. The cost includes three activity sessions, lunch and morning/afternoon teas. Of course campers can come multiple days if you wish, however there are limited places.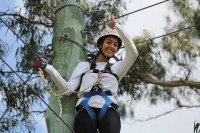 Click here to download the application form for December 2020 and email to info@teenranch.com.au!
Activities
Each day is set up with a specific activity program for each age group. All you have to do is select what day and what program your child wants to attend.
Specific programs can be found here but can be combinations of Horses, Rock Climbing, Giant Swing, Bush Skills, Wet Games & Giant Water Slide, Canoeing, Crate Climb, Archery, High Ropes (Age 13-17) & Rock Climbing/Abseiling (Age 13-17).
Specialised programs include:
Ranch Riders - an entire day of horse activites, ranging from pony for a day, horse care, arena riding lesson, mini Gymkhana (age dependent) and trail ride (age dependent).
Wet 'n' Wild - Canoeing, Wet Games, the Giant Water Slide & Pool Games
Thrills & Skills - Canoeing, Archery & Giant Swing
Rope Adventures (Ages 10-12) Rock Climbing, Giant Swing & Crate Climb
Rope Adventures (Ages 13-17) Rock Climbing/Abseiling, High Ropes & Giant Swing.
Between activities or in small pockets of free time, we've got a whole range of sports to enjoy; volleyball, cricket, basketball, footy and more.
Your children are in good hands
All activities are fully guided and supervised by qualified Teen Ranch staff who are experienced in their various specialised areas. All staff are qualified to provide First Aid and have Bronze Medallion lifegaurd qualification.
To help ensure that all campers and staff have a great holiday program, we do have some simple rules that are outlined to campers at the beginning of each day. Essentially these are to respect fellow campers, respect the staff and respect the equipment and property. We ask that campers do not bring their mobile phones or devices with them (not only is it a distraction from the great outdoors, but we are not liable for lost or damaged property). Teen Ranch has a strict no-alcohol, no-drugs and no-smoking policy.
We're COVIDSafe!
Teen Ranch is a registered COVIDSafe business and have implemented multiple COVIDSafety Plans. Here are some things that you experience in light of COVID-19:
Upon check-in, each camper will be temperature checked and asked basic screening questions (e.g. have you been in a current "hot spot" within the last 14 days? Do you have any flu symptoms? etc.)

Please note, campers will not be allowed to attend if there are any flu symptoms, high temperature or answer yes to screening questions.
Campers will be required to practice good hand hygiene – frequently washing and sanitising hands as well as good cough & sneeze etiquette and physical distancing (where possible).
Don't be scared of the staff….we're a good looking bunch but we'll be covering up with face masks for the safety of everyone!
What to Bring
Activity equipment is frequently cleaned & sanitised and each activity group will have no more than 24 campers.
We recommend that each camper bring a day bag that contains:
Drink bottle, sunscreen & hat

Enclosed shoes e.g. sneakers (only exception is water-based activities)

Long pants for horses (campers will not be allowed to ride wearing shorts)

Swimmers incl. a rashie/t-shirt, thongs/slides & towel (for water-based activities and if you want to jump in the pool)

Change of clothes, including enclosed shoes (if participating in water-based activities)

Rain jacket (just in case, rain won't stop us from having fun!)